You website can
more
more.
In case you haven't just started with your website, but already put many hours into your contents, a website check will support the further development and completion of your website.
You book a website check to 
find yet unknown weaknesses.
overcome challenges that do slow you down.
realize the full potential of your website.
understand what you best start with.
perfect your website.
Every detail of your website is important and can make or break the success of your website goal.
But this isn't a question of what to add to your website in order to make your offers even more attractive. It is a question of ...
how you align your existing contents with your goal.
It isn't the quantity of what you have to offer that leads your dream customers to you. It is the way in which you communicate it.
This is how your website check
looks
like
Your Website Marketing begins when you actively pursue the interest to align your website with your professional goal. If you already have a website, this would be your website check.
However, your website check isn't just a list with a random set of tips that I based on my experience and taste. No.
Your website check will be checked against the subject of your profession, your website goal and your target group. So after receiving your request and the link to your website, I will first send you a short questionnaire.
Making sure that I am aware of your perspective.
After clarifying the requirements and confirming your payment to be received on my bank account, I will then have a close look at your website.
its

presentation

 and the general impression it gives of you and your profession.

its usability
its contents: the structure, the information and text quality, as well as for whether you thought about search engines when it comes to its frontend (presentation level).
You will receive the evaluation in a multi-page document in PDF format with additional recommendations and tips. Of course, you can ask me any questions you may have.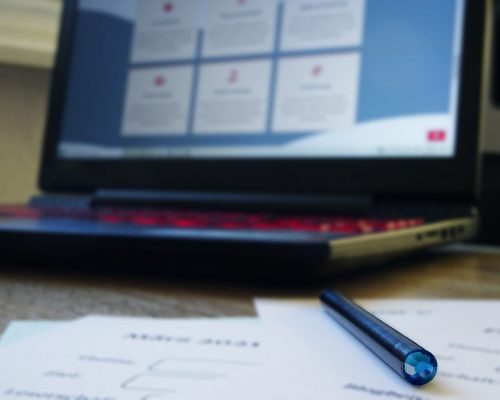 This is the
worth
of your website check
* Aufgrund der Kleinunternehmerregelung nach § 19 UStG fällt keine Umsatzsteuer an.
Clarity brings
clear
advantages.
Please use the following form to
request your website check
. In case you couldn't find
your questions
in my
FAQ section
, please add them as well.
Start with the newsletter
News
&
website tips per e-mail
If your website is still in the beginning stages, I recommend subscribing to my newsletter instead. Here, I will regularly notify you of new blog contents and add some useful tips.
As a subscriber, you will also receive my newest newsletter extra. This PDF document will explain you what makes a good website.
* Swap your e-mail address for regular impulses and tips as well as for newsletter extras and offer notifications.
Questions
&
answers about your website check
Subscribe to my newsletter
Begin with regular
tips
for your website
As a subscriber, you will receive two e-mails per month from me. In each of those, you will find my newest blog post, an impulse and a tip for your website.